Who's Responsible?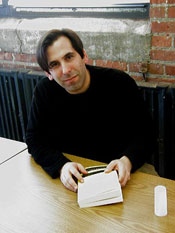 Ken Gordon: So you want to know about Ken Gordon? Which one? There's the Ken Gordon who is the editor and publisher of QuickMuse. Then there's Ken Gordon, freelance scribbler, a man who has written for the Boston Globe Magazine, the New York Times, Poets & Writers, Salon, Spin, Wired, and various other not-ready-for-the-official-bio pubs. (Is this the same Ken Gordon who used to pen a column about being a first-time dad for Child Magazine? Guilty as charged.) The guy with one hand on his forehead and the other scribbling in the margins of a manuscript -- that's the Ken Gordon who edits JBooks.com. And the smiling-but-exhausted bastard walking with his wife and two small children into the heart of Newton Centre, Massachusetts, you'll be pleased to know, is KG No. 4. OK, enough. Let's go read some poems.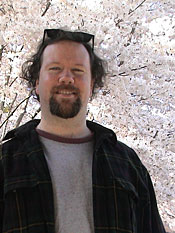 Fletcher Moore: Fletch is the man behind the curtain. If you need someone to thank for the Poematic poem-recording-and-playback system, thank Fletch. If you're looking for someone to complement concerning the voluptuous graphic design of QuickMuse, drop Fletch a line. If you've got a complaint about how something works, or doesn't, cut the guy some slack -- when he's not developing poetry-capture systems, he's building websites for Georgia Tech or for one of his many freelance clients, or he's practicing his 3D graphics skills, or he's playing Legos with his three-year old daughter, or contemplating playing Legos with his infant son, or hanging out with his wife, or working on his novel, or playing his guitar, or his bass, or headed off on some mad bicycling adventure, or tending to his tomatoes, or fixing the damn car.
QuickMuse recommends:
Pre-order at Amazon.com
"Effortlessly, the narrator's story here becomes one with the stories of the women in prison. Rarely do we encounter a perspective clear as glass through which the characters look back at the narrator without mirror or microscope, false hierarchy or romanticizing. Brava!"
-- Toni Morrison